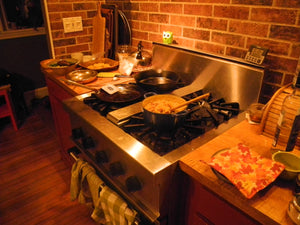 Maple + Squash + Bacon = Yumminess
The combination of maple syrup, butternut squash puree, and bacon is tough to beat. It's also an incredibly versatile combination! Here are three of our favorite ways to use them. (1) Maple-Squash Bread: A variation of pumpkin bread using butternut squash puree, maple syrup as the sweetener, and bacon fat as the oil component. 
(2) Squash Risotto with Bacon and Maple Syrup: arborio rice cooked slowly with vegetable stock and wine, with squash puree, maple syrup, and chopped bacon stirred in before serving.
(3) Pizza with Maple-Squash Puree and Ham: whole wheat pizza crust, brushed with garlic oil then topped with a thick butternut squash puree that's been sweetened with maple syrup. Next comes chunks of sauteed ham (okay, not bacon but still pig!) and grated parmesan cheese.
---