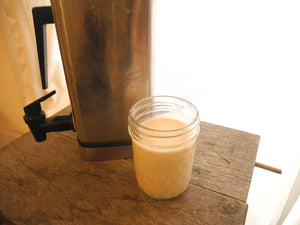 Maple-Tahini Smoothie
Maple syrup is one of the best things to happen to smoothies in a long time. 
This smoothie is packed with tahini for protein, iron, zinc, and a lovely texture. Tahini is a little bitter on the finish so there is a generous amount of maple syrup in this smoothie; you can reduce this to 2 T if you love the taste of tahini or want a less sweet smoothie.
half banana (we like one quarter fresh, one quarter frozen slices)
1/4 c tahini
3 T maple syrup
3 T plain, whole milk yogurt
1/2 c whole milk
This will make enough for two small glasses or a single medium-sized glass (more than the half-pint jar in the photo, but less than a pint). Enjoy!
---