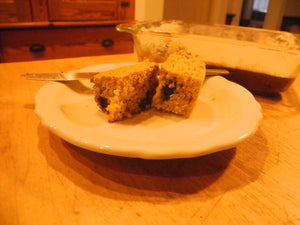 Blueberry Buttermilk Cornbread
Well, we had a snow day here in the Northeast Kingdom, and as a way to keep busy we made a batch of cornbread. Our cornbread is lightly sweetened and features blueberries for a fun extra bit of flavor. Enjoy!
Preheat the oven to 375. Grease and flour an 8*8 baking pan. Mix together 2 eggs, 1 cup of buttermilk, 1/3 cup of maple syrup and 1/4 cup of vegetable oil. Sift or stir together 1/2 cup of fine cornmeal, 1/2 cup of coarse cornmeal and 1/4 cup of whole wheat flour with 1/2 tsp of salt, 1/2 tsp of baking powder and 1 tsp of baking soda. Toss 1/2 cup of frozen blueberries with a touch of flour then mix them in the batter. Pour into prepared pan and bake for.... awhile? Until done? Until it smells unbearably good? Start with 25 minutes then begin checking until the top of the bread bounces back when you gently press it or until a knife comes out clean. Serve with butter and maybe some honey. Happy snow day!
---