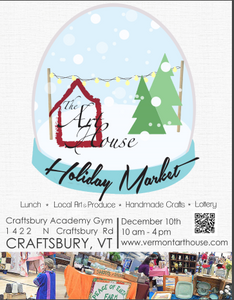 Holiday Fair!
Here comes the holiday fair in Craftsbury.... December 10th from 10:00am - 4:00pm in the Craftsbury Academy Gym. This is where Travis and Jenna went to school (3rd generation sugarmakers) and where James and Lytle will one day go to school (4th generation:)). The event is a fundraiser for The Art House, hooray for local non-profits and businesses!
We'll be featuring a variety of sizes and bottle styles in both light and dark maple syrups. There will of course be candy for sale, and we'll also have some of our newest maple candies up for expert tasting, including our brittle and our fudge. 
Happy holidays, and we hope to see you there!
---