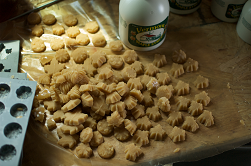 Maple Candy Flash Sale
We love maple candy. We love making it, we love teaching other people to make it, we love sharing it and selling it, and oh yeah, we love eating it.
But maple candy is tricky. It is best eaten fresh. Small batches of maple candy actually use a lot of maple syrup - it gets more efficient as you start to do larger batches. And maple candy and heavy jugs of maple syrup aren't great shipping partners, it works best to ship maple candy on its own.
So.... we're going to start doing flash sales! Keep an eye out on the website, and our Facebook and Instagram pages. And if you're in the Seattle area in the fall, Riva will be doing a candy-making class. Stay tuned for details.... and who knows, maybe there will be a Seattle-area pop up or flash sale? Happy candying!
---