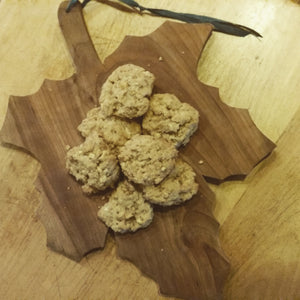 Peanut Butter Cookies
We have to give credit where credit is due. The inspiration for these peanut butter - bacon fat cookies from blogger and author Emily Wight and her cookbook Well Fed, Flat Broke. But I think she would approve of our variation!
Preheat oven to 375. Take 1/2 c of bacon fat, 1/2 c of creamy peanut butter, 1 egg, and 3/4 c of maple sugar and mix well. Add 3/4 c cup of whole wheat flour, 1 tsp of baking soda and a generous pinch of salt. We added a cup of chopped mixed nuts - peanuts, cashews, and walnuts, but we encourage you to get creative here and personalize these cookies. 
Place spoonfuls on a baking sheet, we comfortably got 12 per sheet and made two sheets. Bake for 8 minutes then begin checking for doneness by gently pressing the cookie with a fingertip and watching for darkening around the edge. Remove from oven, consider letting them cool and then do some quality control and try them. It's hard to be the chef.
---