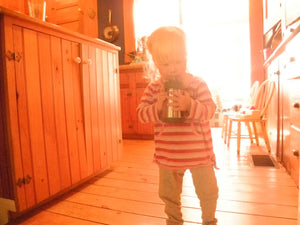 Raspberry Coconut Cashew Smoothie
It feels like a very tropical smoothie for this time of year, but whatever. When it's good, drink it, regardless of the season! Here's our recipe for a tasty smoothie that is very popular with our little sugarmakers:
Start with 1/4 cup coconut milk (we like to use the coconut milk from the can and scoop a mix of the thick creamy coconut with the coconut water) and 1/4 cup another type of milk, or more coconut milk. In a spice grinder, mix and grind 2 T of cashews and 2 T shredded, unsweetened coconut. Add to the blender along with 1/2 cup of frozen raspberries and 1/4 c maple syrup. And this recipe is really just a suggestion, feel free to vary with more cashews for a protein punch, or add extra fruit such as mango and banana for even more tropical flavor, or try stirring in the coconut without grinding it first for a different texture. Any way you try it, it's sure to be delicious!
---